I. Mobile Web Checkout 
 ***You need to set Safari as browser to place order***



1.  Choose "Apple Pay" as payment method on checkout page and click "Proceed to Checkout"

2.  Fill in required information and delivery details

3.  Click the "Apple Pay" button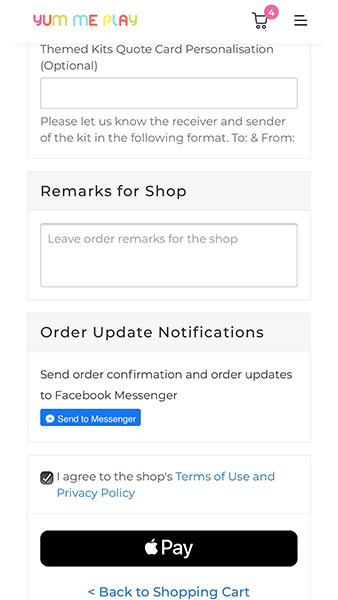 4.  Payment details are then popped up. You can choose different payment card by clicking the ">" button if they have added more than one card in Wallet


5.  Follow the instructions on your mobile device to complete payment




6.  Once payment is completed, 

you will be redirected back to the Order Confirmation page of our website with order details including payment type, payment status and transaction number.


II. Desktop Checkout 
 ***You need to set Safari as browser to place order***
Click here to check out the Apple Pay payment procedures for different MacBook models.